A key to the success of Absfront and our customers is the collaboration with different partners. Absfront has a long experience from collaborating and partnering in order to deliver innovative and stable solutions to our customers.
Strategic partner
Microsoft
Microsoft has since the start been a strategic partner to Absfront both in regards to our development of add-ons as well as what type of services we deliver and the marketing and sales around these activities. The aim of Absfront is to always be in the front of how Microsoft drives the market within Microsoft Dynamics 365 where we now also includes Power Platform . Not that many small specialized Microsoft Dynamics 365-companies like Absfront can be proud of earning the Microsoft Partner Gold-level every year since its inception.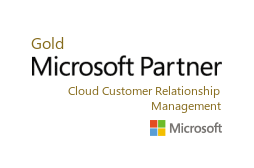 Technical Partnering
In order to build out Microsoft Dynamics 365 into solutions that works for certain customer business scenarios Absfront is not only providing its own add-ons into the solutions. There are also other add-ons that are very helpful in the market.
Clickdimensions
Clickdimensions is a leading 3rd party add-on for Microsoft Dynamics 365 in regards to Digital Marketing. Its a produict that Absfront has been working with for several years that we provide to the customers that needs to digitize business relations and provide different type of Multichannel CRM solutions.
Resco
In some of the industries that Absfront have solutions for a stable mobile solution is needed. Absfront has been working with Resco for sveral years and deployed various end-user scenarios primarily for Life Science and Consumer Goods-companies. The users get provided with an advanced, yet easy to use, mobile solution that works on all devices. Not only mobile phones but on tablets and laptops as well.
Co-sell partners
The success of Absfronts lies in the collaboration with other Microsoft partners in the "echo-system" that we are able to collaborate with. Absfront supports with both pre-sale resources, expertise, add-ons or long-term support depending on the setup and distribution of activities and responsibilities together with customers.
Partner with us!
After more than 10 years of successful partnerships we know how we can make a partnership work in different types of customer projects. EIther you as partner want to implement our add-ons or just use Absfront as an addiitonal resource or expertise in customer implementations. Absfront takes on a flexible role either as an expert or just as a supportive role where its need to drive customer engagements to a success. Send an e-mail to partner@absfront.com to initiate a partner discussion.
On-going partnerships
Absfront has on-going partnerships with Microsoft Dynamics 365-partners in primarily the Nordics but also in different parts of Europe and South America. The collaboration has a focus either to implement industry solutions using Absalon add-ons, collaboration in regards to expert services or both. Contact sales@absfront.com to know more about partners in your region.