Within Absfront we have a long end deep experience from CRM-projects and implementations. Part of our team where some of the pioneers when Microsoft CRM version 1.2 was launched in Europe back in 2004. Since the we have acquired knowledge and expertise on what makes a CRM-implementation a success.
In many other type of IT-related projects the focus is to change internal processes and increase internal efficiency and productivity. CRM-related business processes and technology can also improve internal routines and processes however the core of CRM is business relations with the outside world. And as the success then of the project is related to a lot of external factors it can be hard to manage in order to secure success.
At Absfront we have identified 3 "soft" factors and 3 "hard" factors to consider when driving success into CRM-implementations:
Soft Factor #1: Do not forget what CRM is all about!
In our first contact with businesses that seeks to implement or improve existing CRM-solutions we are struck by that most business often start their CRM-sttrategy and implementation from an internal point of view.
Meaning, how they can be more efficent in documenting sales interactions, find customers in their database that could be interested of the latest offering etc. That is off course and important factor. However, a CRM-solution is supposed to support the business in how to initate new business relationship as well as nurture long-term engagements. There needs to be more external than internal focus. We need to answer questions like:
How will our ways of working, business processes etc improve the relationship with the customer and strengthen your position as an important supplier/partner?
How will this initiative support my customers – what acctual value will they get from it?
Soft factor #2: Identify and communicate the business benefits within your organization!
Some organizations have a crystal clear image of business benefits and what to expect when implementing a CRM-solution and related processes. However, what sometimes make CRM-initiatives harder to secure a clear business case for is that CRM more than most IT-related investments are very much impacted by external events and developments. A lot of things can happen in relation to Customer Relationships that cant be 100% controlled by the business itself.
Competitors may affect you possibilities to drive your pipeline and new offerings, important customers may change how they procure the products or services you offer etc. In order to still be able to quantify benefits without too much dependence on external factors we suggest grouping benefits into three areas:
THE USERS
THE BUSINESS
THE IT-PLATFORM
Spend more time with customers while drastically reduce manual work for sales administration, finding and sharing information, report etc
Improve the end-users "Self-coaching" ability so that they understand next steps to take in the sales process, how to prioritize and focus on what yields best results.
Improve how the organization work in customer critical business processes.
Improve collaboration and management so that the organization dynamically can adapt to changes in the market place
Reduce the Total Cost of Ownership for you IT-solutions that supports the CRM-strategy and processes.
Converge on ONE stable and secure solution that seamlessly integrates with Marketing, Sales, Service/Support and Delivery processes. No data silos.
Soft factor #3 The internal business culture matters!
One thing that is often forgotten, is that in CRM-projects an organization needs to put in 50% of its efforts into the technical tools that will support the CRM-processes and strategy and the additional 50% needs to be invested in how to utilize the CRM-solution from a "soft" perspective in regards to way of working etc. The technical part of the CRM-solution can be compared to a race car and the soft part of the implementation can be compared to the skills in how to drive this car in order to win against the competition.
Based on our experience we have learned that different organizations arent really matching how they want do drive their CRM-initiative with the race car they are investing in. Below illustration from Gartner Group gives a good insight in what type of focus a CRM-implementation should have based on the business culture within the organization in order to match business culture with the type of CRM-technology and focus that is needed: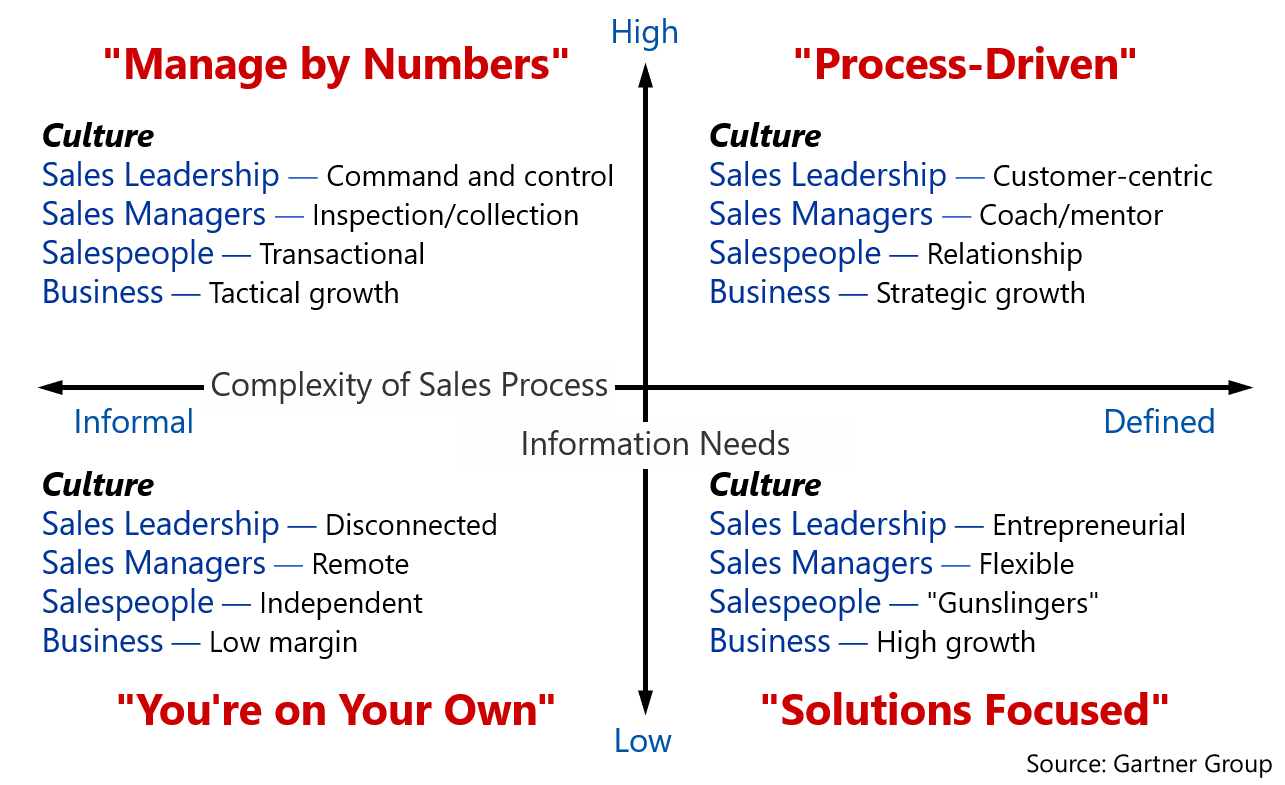 Hard factor #1 Choose a CRM-platform that is dynamic, flexible and integrates well with other solutions and tools!
The market and businesses are under a constant pressure of change. Having a CRM-solution that can't be easily adapted to these changes will limit the possibility to cope with how the market develops.
A CRM-platform needs to be well and easy to integrate with daily tools and backend systems; adaptable to changes in business processes and intelligent in adapting to specific end-user interactions and information needs.
The Only Thing That Is Constant Is Change

– Herakleitos 535 BC – 475 BC
Hard factor #2 Reduce custom built code as much as possible!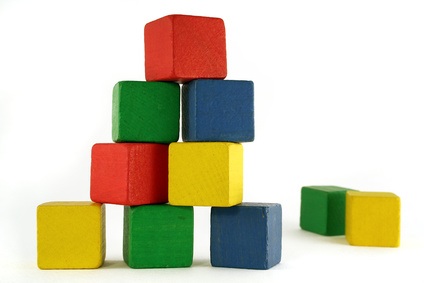 Your business is most probably folloe the standards, processes and methodologies that are relevant for your industry or vertical.
Instead of building all these common processes from scratch you should use as many ready "building-blocks" in order to complete the solution.
You will probably still need to customize your solution but keeping it to a minumum will reduce the costs, time to launch the solution for your organization, risk and long-term maintenance dependance of specific consultants with knowledge about the solution. As your needs evolves you should add or remove these building blocks in order to always have a CRM-solution on par with your needs.
Hard factor #3 Establish an iterative and phased implementation approach!
This may not be considered as a "Hard factor" but establishing a Project Methodology and a phased implementation approach needs a lot of structure and hard decision making to be successful. Too many corporations either throw themselves into a solution they hardly understand hard to utilize or uses so much time and resources to analyze CRM-needs that will be irrelevant as they get deployed to the end-users.
The approach needs to be a structured Agile-approach where each and every sprint or launch of new version has been linked to an overall theme of business benefit that the organization want or need to achieve.
Using an iterative development approach and the use of both add-ons and a structured project methodology like Microsoft Dynamics Surestep you as an organization can implement and maintain a CRM-solution in a cost-effective and low risk approach while still maximizing the effect of the solution.